Carbon monoxide sensor
The sensor is designed to detect high levels of carbon monoxide (CO) and provide immediate information to protect people's lives and health. It is installed indoors by means of a double-sided tape on the ceiling and it is particularly suitable for heating with a fireplace or a wood stove. Also, carbon monoxide sources could be some heating and / or gas appliances placed in locations with poor ventilation and lack of ventilation. Cigarette smoke and car exhaust can also contain high concentrations of CO. Carbon monoxide lacks color and odor, making it difficult to detect by humans. It is toxic and may cause poisoning by inhalation of large quantities.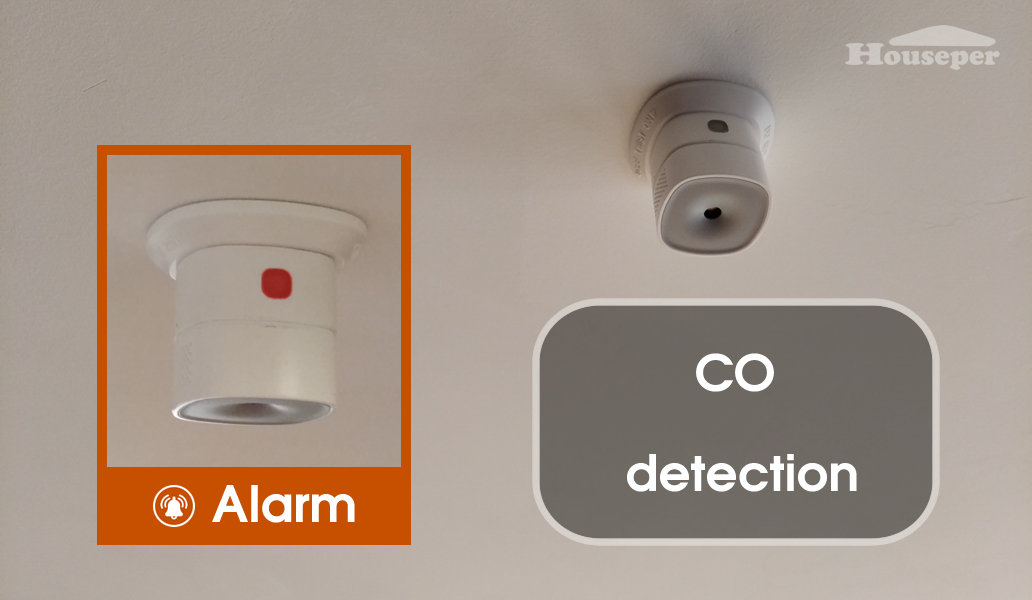 Once the device is added to the Houseper system, don't forget to activate it. When a high concentration of carbon monoxide is detected, the red LED will start flashing quickly, an integrated into the device sound alarm will switch on, an alarm

will appear in the application and depends of the settings, a notification can be sent to an email or smartphone and a Siren device can be triggered.
Also the sensor can generate a low battery alarm

, missing device

, tamper

, trouble

.
The sensor comes with a battery included, insulated with a protective strap, which must be removed before installation. The device has extremely low power consumption and a very long battery life.
Functionality:
Basic




Power Configuration




Zone
Alarm indication:
red LED flash quickly

build-in sound alarm




siren activation from HOUSEPER system




smart phone notification from HOUSEPER system




mail from HOUSEPER system



Join network:
press "Add device" button under the Settings tab in HOUSEPER application;




press the device button located in the little hole for 2 seconds till green LED flash quickly;




green LED keeps on for 3 seconds after successful join;




device appears on Devices tab in HOUSEPER application.



Leave network:
press the device button located in the little hole for 5 seconds to leave the network;




after the device leaves HOUSEPER network, the green light flashes slowly for 3 seconds.
* The batteries are included
Device Specifications
Networking type
Zigbee HA 1.2
Wireless Networking Distance
70m (open area)
Router (network extender)
No
Endpoints
1 x Carbon Monoxide Sensor
Working temperature
-10℃ ~ +50℃
Working humidity
≤95%RH
Sound level
85 dB/1m
Power Supply Specifications
Power Supply
DC 3V
Battery
1xCR123A or 1xCR17335
Carbon monoxide sensor
Product Code: GTVE-GD-ZBCD18T6
Availability: In Stock
135.88лв.

Ex Tax: 113.23лв.
Related Products