Metering plug
The Smart Metering Plug is designed to control appliances and it has very widely usage - to warm up the coffee machine before getting out of bed; to turn off the forgotten iron when you are away from home; to turn on the air conditioner before you get home; to turn off the night lamp without getting out of bed.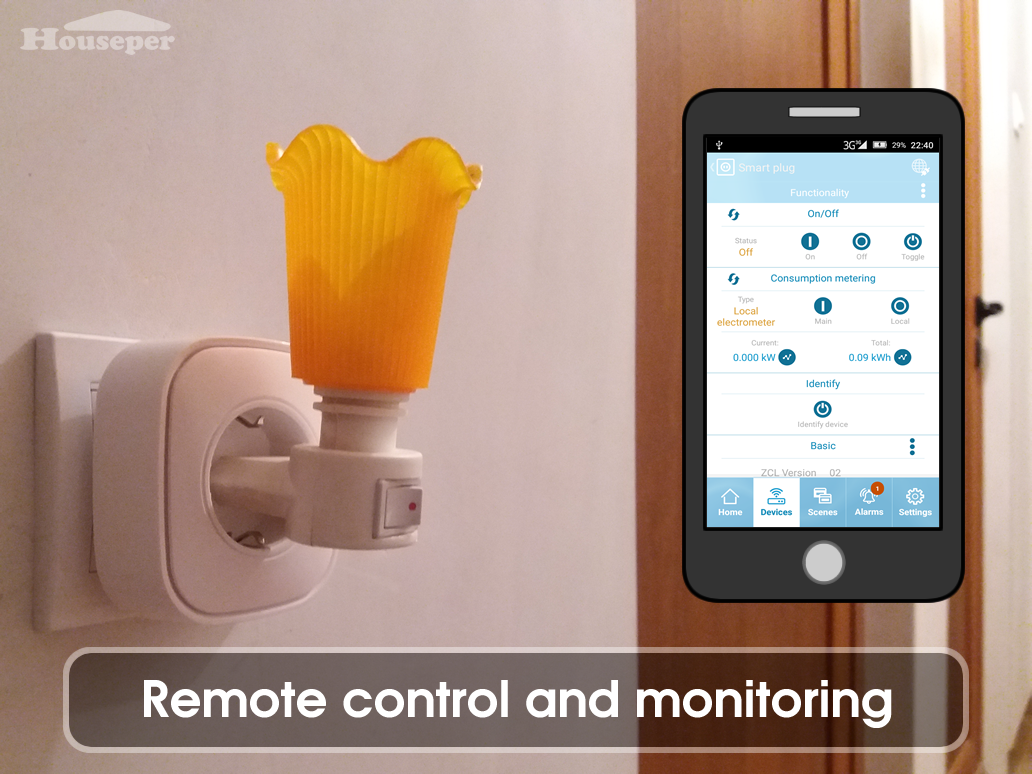 In addition to managing various electrical appliances, smart plug also measures electricity consumption. Linked to the Houseper system, it sends the data to the application that collects and processes it in order to provide a pleasant graphical statistics for current load, total daily and nighttime electricity and calculated monetary value of the energy consumed. Keep track of statistics to optimize electricity consumption and reduce electricity bills.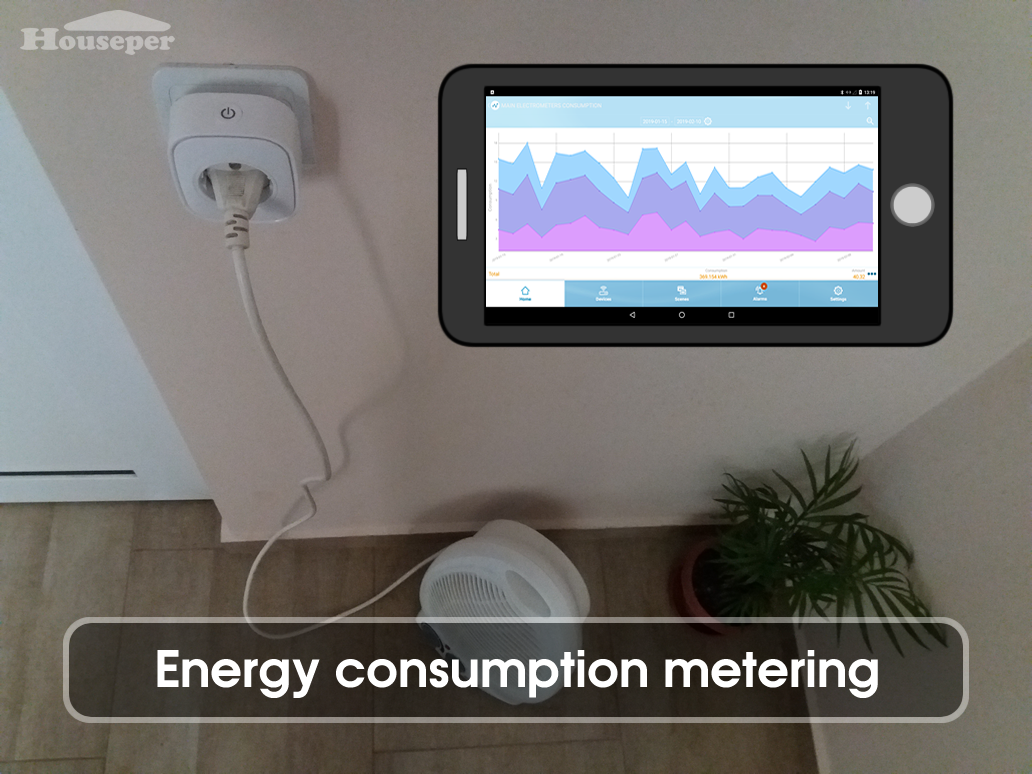 When you have several plugs, you can declare them as main meters. Then their measured consumption will be accumulated to the total for the property and you will be able to track statistics for the whole property.
The plug supports "Identify" functionality. This means that if you have more than one plug whose names you have not changed after being added to the Houseper system, then the plugs are left with the same names and you are not quite sure which socket is which. In such situation you can run the "Identify" and the corresponding socket will start flashing. Now you know which socket is it and you can change his name to something more meanigfull, such as "Iron" or at least specify in which room it is lockated in order to distinguish him from the rest. This applies to all devices that support the "Identify" functionality.
The socket has built-in protection and will automatically switch off when overloaded.
Functionality:
Basic

Identify




Consumption metering




On/Off
Join network:
plug the Metering plug into a socket;




press "Add device" button under the Settings tab in HOUSEPER application;




press and hold the button on the Metering plug, untill the LED indicator starts flashing;




device appears on Devices tab in HOUSEPER application after successful join;



Leave network:
long press the button on the Metering plug for 5 seconds to leave the network;




after the device leaves HOUSEPER network, LED indicator flashes slowly for 3 seconds(2 times per second).



Device Specifications
Networking type
Zigbee HA 1.2
Wireless Networking Distance
100m (open area)
Router (network extender)
Yes
Endpoints
1 x Smart plug
Working temperature
-10℃ ~ +50℃
Working humidity
≤95%RH
Maximum load
3000W/16A
Socket
EU standard
Power Supply Specifications
Power Supply
AC 110~240V
Metering plug
Product Code: GTVE-GD-ZBPST1
Availability: In Stock
70.00лв.

Ex Tax: 58.33лв.
Related Products