Remote control
This device can control home protection. Smart remote control is small, with a modern design, low power consumption, and a very long battery life. This device can be combined with home security devices such as the Motion Sensor and the Door / Window Sensor. When these devices are added to any zone, they can be activated / deactivated by remote control.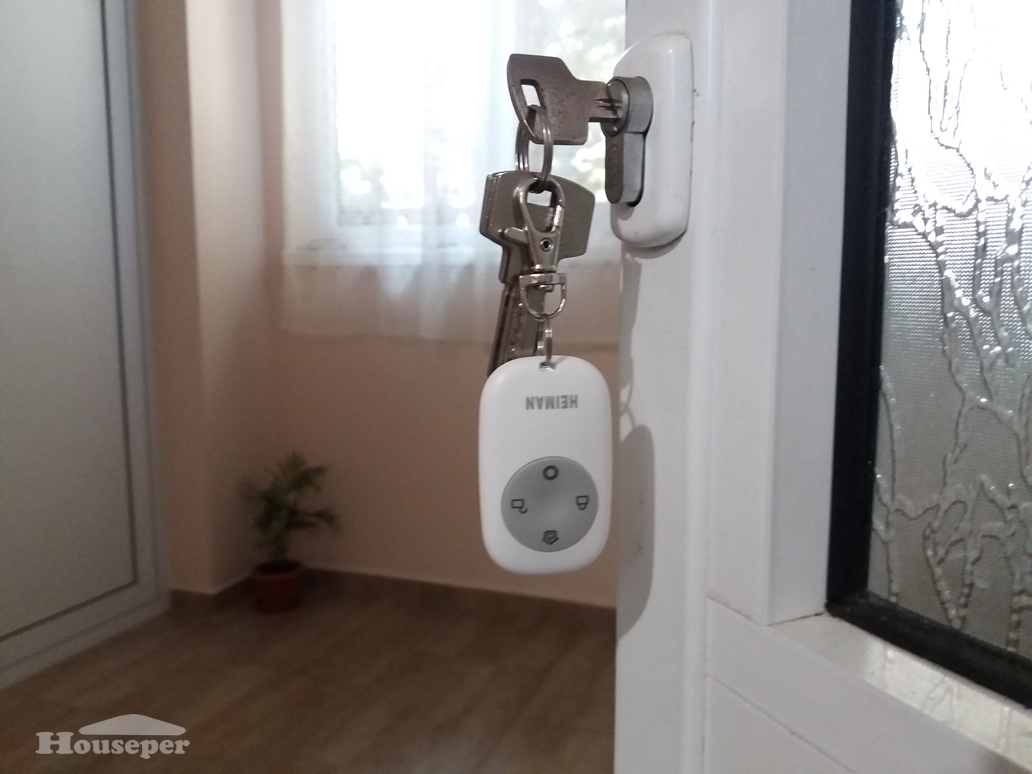 The device has 4 buttons:
to activate all zones presented as closed padlock.

to deactivate all zones presented as open padlock.

to activate a Day/Home zone presented as a house.

to generate alarm "Emergency", when the remote is activated.
The device is designed as a keychain and it is extremely comfortable to use. When leaving home, press the Activate All Zone button to turn on the overall protection of your home. Before you enter in, deactivate all areas to prevent an alarm.
Functionality:
Basic

Power Configuration




Zone Control




Zone
Alarm indication:
red LED flash

siren activation from HOUSEPER system

smart phone notification from HOUSEPER system

mail from HOUSEPER system
Buttons description:
left button: Arm all zones

top button: Arm Day/Home Zone

right button: Disarm all zones

bottom button: Activate "Emergency" alarm
Join network:
press "Add device" button under the Settings tab in HOUSEPER application;




press the device button located in the little hole for 2 seconds till green LED flash quickly;




green LED keeps on for 3 seconds after successful join;




device appears on Devices tab in HOUSEPER application.



Leave network:
press the device button located in the little hole for 5 seconds to leave the network;




after the device leaves HOUSEPER network, the green light flashes slowly for 3 seconds.



* The batteries are included
Device Specifications
Networking type
Zigbee HA 1.2
Wireless Networking Distance
100m (open area)
Router (network extender)
No
Endpoints
1 x Zone sensor
Working temperature
-10℃ ~ +50℃
Working humidity
≤95%RH
Power Supply Specifications
Power Supply
DC 3V
Battery
1 x CR2032
Remote control
Product Code: GTVE-GD-ZBRC18T0
Availability: In Stock
50.62лв.

Ex Tax: 42.18лв.
Related Products