Wall switch 1 button
This light switch can replace your light switch and allow you to control the lights from both the light switch and your phone. Attach the unit to the Houseper system and you can turn on/off the lamp from your bed. This way, you will no longer bump into the dark looking for the light switch. The device is with one button, but it is available in two and three button variants.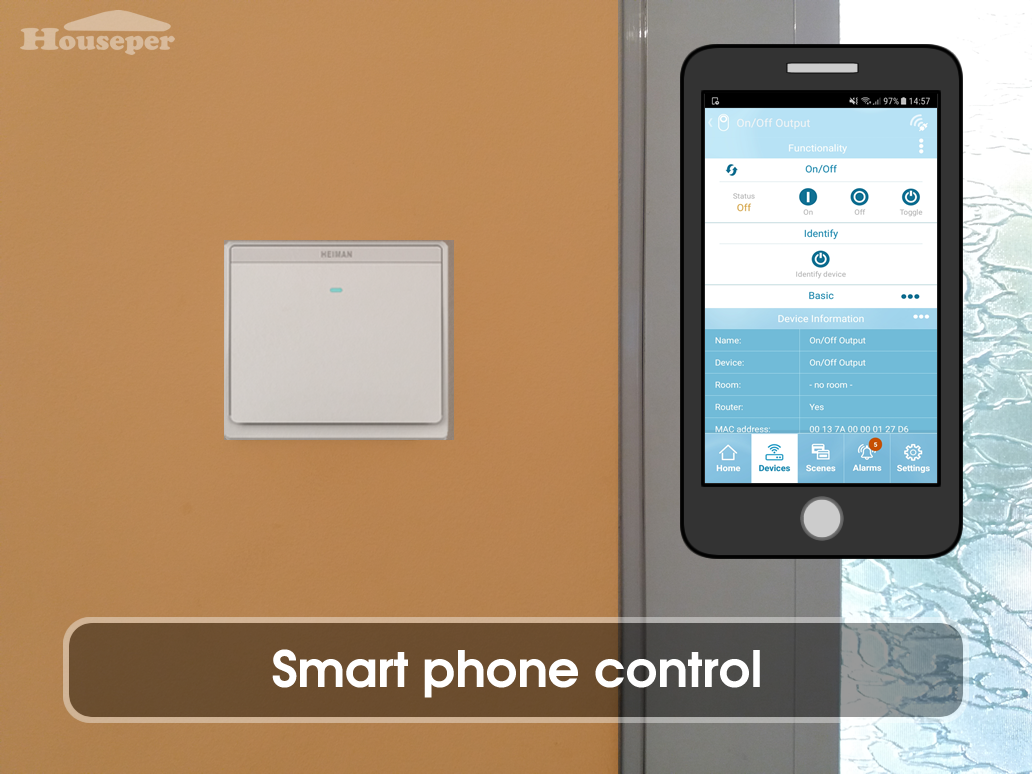 The device supports Scenes. For example, you can turn on all the lights and create an "all on" scene. Then turn off the lamps and create an "all off" scene. You can now turn the lights on and off in all rooms with just one touch of a scene activation button.
In addition, it is a network amplifier, which means that it contributes to increasing the coverage and capacity of the system.
It is intended for indoor use and is mounted in a standard console box, connecting to 0 and phase.
Functionality:
Basic

Identify

On/Off

Scenes



Join network:
install the Smart Switch following the instructions;




press "Add device" button under the Settings tab in HOUSEPER application;




press and hold the button on the Switch, until the LED indicator starts flashing;




device appears on Devices tab in HOUSEPER application after successful join;



Leave network:
press and hold the Switch button until the LED indicator turns blue. Release the button and press it again;




after the device leaves HOUSEPER network, red LED indicator flashes slowly for 3 seconds(2 times per second).
* The switch must be connected to 0 and phase
Device Specifications
Networking type
Zigbee HA 1.2
Wireless Networking Distance
80m (indoor)
Router (network extender)
Yes
Endpoints
1 x On/Off Output
Working temperature
-10℃ ~ +60℃
Working humidity
≤80%RH
Maximum load
≤800W/line
Power Supply Specifications
Power Supply
AC 100~240V
Wall switch 1 button
Product Code: GTVE-GD-ZMS-E1
Availability: In Stock
89.88лв.

Ex Tax: 74.90лв.
Related Products