Color dimmable LED bulb E27
You no longer have to bump into the dark to find the key on the wall. Put the light bulb in your favorite night lamp and operate it from your smart phone.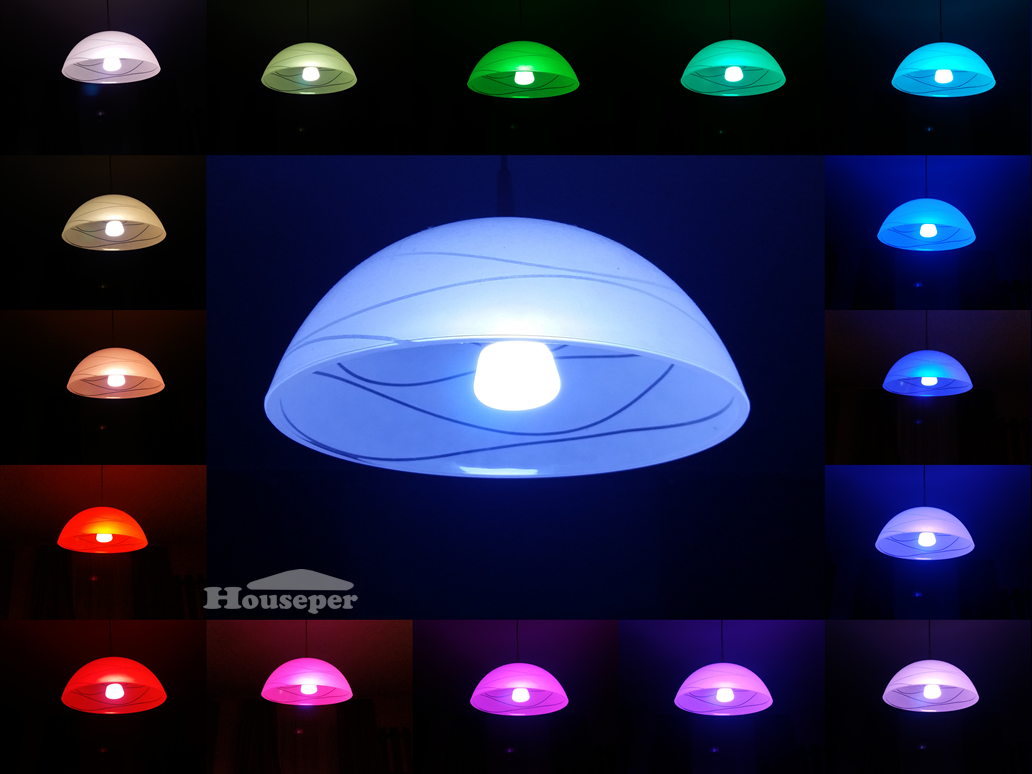 9W energy efficient LED bulb with a color palette of over 16 million colors, all of which can be dimmed. Your favorite color will be there for sure.
Choose the right lighting for book reading and create a scene. Give a meaningful name to the scene. For example, "Book" or "Read". That way, every time you decide to read, you'll be able to quickly switch to reading-friendly lighting. You can create different scenes for different occasions - good morning, games and fun, watching TV, resting, sleeping, romance. You can also create a scene with more than one device and transform your home with one touch.
When you add the device to the Houseper system, you will notice that two logical devices appear in the system. One of them is unmanageable, it has only administrative functions and can be declared as "Hidden", so it does not interfere with your list of functional devices.
If you turn off the power of the light bulb, the following

missing device alarm will appear shortly. This means that the device cannot be found and controlled.
Functionality:
Basic

Identify

Color Control

Level Control




On/Off




Scenes
Join network:
screw bulb into E27 base;




press "Add device" button under the Settings tab in HOUSEPER application;




5 times switch bulb power on and off (on-off-on-off-on-off-on-off-on);




bulb flash 3 times after successful join;

device appears on Devices tab in HOUSEPER application.



Leave network:
5 times switch bulb power on and off (on-off-on-off-on-off-on-off-on);




after the device leaves HOUSEPER network, the bulb light will flash three times.



* The bulb switches on when power is restored after a power failure.
Device Specifications
Networking type
ZHA/ZLL 1.2
Wireless Networking Distance
100m (open area)
Router (network extender)
Yes
Endpoints
1 x Network communication; 1 x Lighting;
Socket
E27
Lumens
750lm
Beam angle
270°
Power
9W (60W Equivalent)
Life span
22.8 years, based on 3 hrs/day (25 000 hours)
Color temperature
2700K - 6500K
Light color
RGB + Pure white
Power Supply Specifications
Power Supply
AC 100~240V
Color dimmable LED bulb E27
Product Code: GTVE-GD-BZ2709
Availability: In Stock
50.90лв.

Ex Tax: 42.42лв.
Related Products