Description
The sensor is used to detect and prevent gas leakage hazards. It is equipped with a high quality gas sensor with high sensitivity and when the gas density in the air exceeds the allowable level, it generates an alarm through a red flashing LED light and the integrated siren.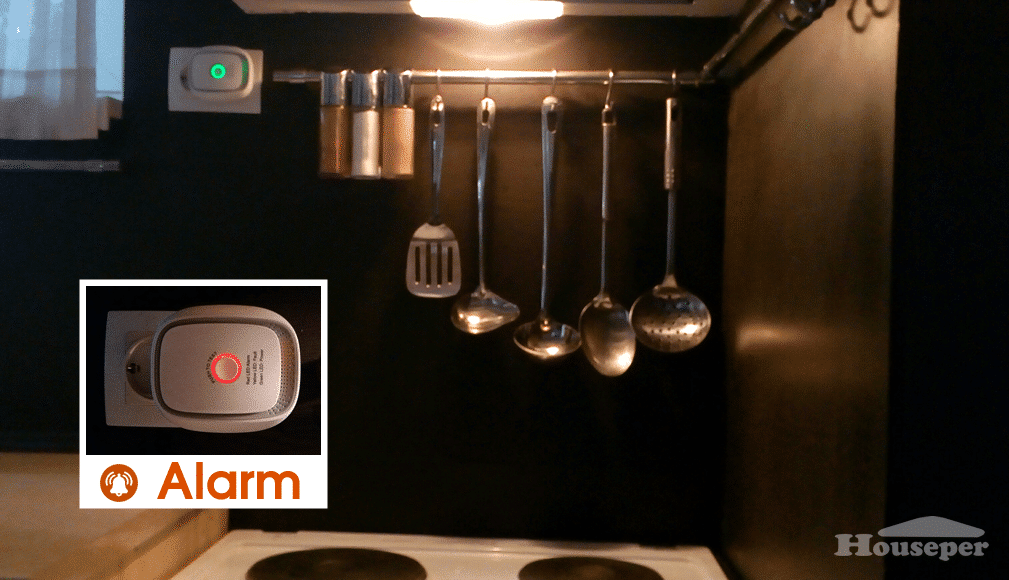 The unit plugs directly into the socket and easily connects to the Houseper system. When it is activate and a gas leak is detected, an alarm indicator will be displayed 

 and depending on your settings, it can send an instant notification to smart phone, emails, and trigger a Siren device. It is a part of the group of home security devices and as such it can have different types of alarms, such as:

 Missing device when the connection to the device is lost. 


  Trouble, indicates device malfunction.
Functionality:
Alarm indication:
Red LED flash;

Build-in "beep" sound alarm;

Siren activation from HOUSEPER system;

Smart phone notification from HOUSEPER system;

Mail from HOUSEPER system.
Join network:
Insert  the gas detector into socket. Buzzer will "beep" once and green LED blink once;

Yellow, red and green LEDs start repetitively flashing for 3 minutes, finishing with permanent green light;

Press "Add device" button under the Settings tab in HOUSEPER application;

Keep pressing the device button located in the little hole for 2 seconds till green LED start flashing quickly;

Green LED stops flash and starts lighting permanently after successful join;

Device appears on Devices tab in HOUSEPER application.
Leave network:
Press the device button located in the little hole for 5 seconds to leave the network;

After the device leaves HOUSEPER network, the green light flashes slowly for 3 seconds.