Description
The Houseper Controller (hub) is the mandatory device that stands at the heart of the Houseper smart home automation system. The smart Controller sets a network to manage communication between the connected smart devices. All system data is picked up and saved by the smart devices thus providing for the system's security and integrity together with the Controller.
This Houseper Basic Controller is more of a budget solution that comes without the air mouse and battery in the pack. This is the only difference from the Houseper Controller. The Basic Controller is suitable to be used in areas with stable and constant power supply and is the perfect solution if you are only just beginning to discover the benefits of smart home automation.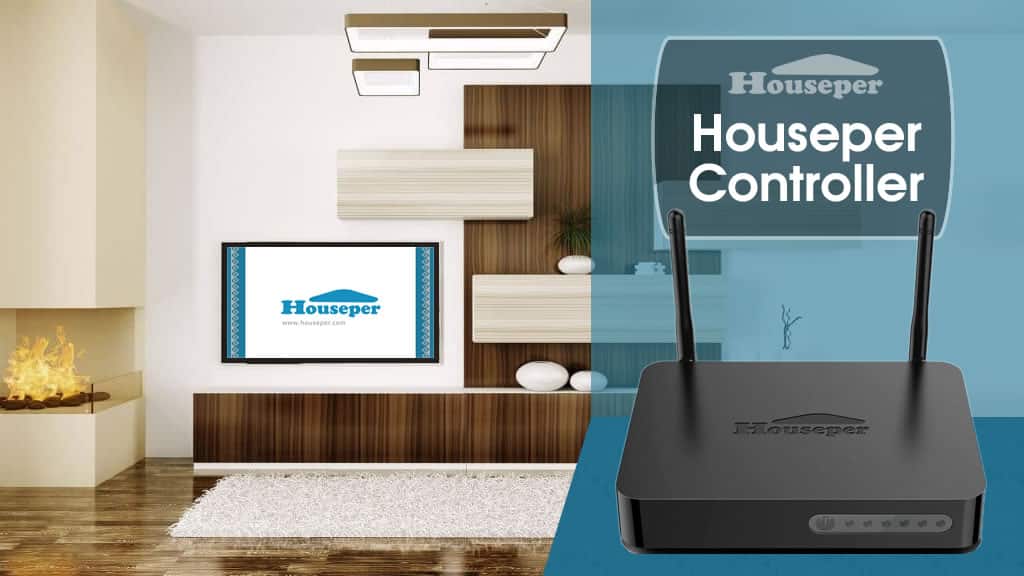 The Houseper Controller comes with built-in software that allows you to manage different devices and appliances with one simple click from your smartphone even when you are away. You can turn off and on appliances, air conditioning and lights, track power consumption statistics and optimise the use of energy-intensive appliances such as washing machines, dryers or dishwashers, monitor security, motion tracking, room climate and a lot more.
Thanks to the Controller, the system sends instant alerts and notifications for every single thing happening in your home while you are away and can prevent severe damages in cases of fire, flood, gas leakage and even deter burglary attempts. The Houseper app allows for constant access, supervision and control of your smart home automation system no matter where you may be.
Internet (in)dependency
Our Houseper smart home system does not need permanent internet connectivity. All the logic is inside the Controller, which makes it independent and even if the internet stops, the devices and system retain their functionality. The Houseper Controller needs internet connectivity just to make the initial configuration or subsequent updates and to provide remote access. As for the devices, they communicate on a specially created by the Controller network and do not need internet connectivity. The cameras are the only exception that require an internet connection if you want to store the records on a remote server.
Access control and security
Remote access to the system goes through a special initial authorisation procedure, that for security reasons, can be performed locally only. Only after the smart device is granted access permission it will be able to connect to the system remotely. Devices that have access to the system can be viewed at any time and their access can be temporarily restricted or completely removed. You can also see which smart devices are currently connected to the system.
Both remote and local access can be completely stopped. This means that smartphones will not be able to connect to the system and you will be able to control the system only from the Controller.
Package includes:
Houseper controller;
Power supply adapter;
HDMI cable;
Buy this controller and get 3 months Cloud services for free.