Water leakage sensor
The sensor is designed for early detection of floods and sending timely information to minimize damages. It should be installed in potentially dangerous places in which water leakage or water overflow can happen. After you add the device to the Houseper system, don't forget to activate it. When the device detects a leak, it immediately generates an alarm and Houseper can send an email, notification to smartphone and trigger a siren.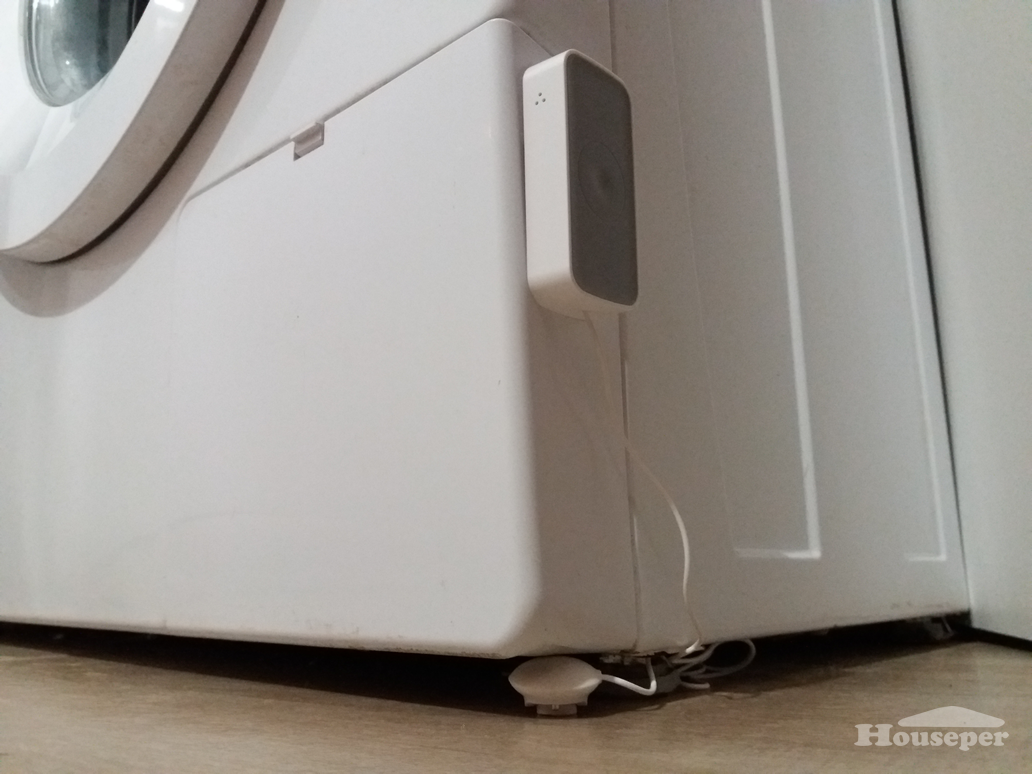 The separate design of the housing and the sensor element connected with a cable, prevents the device from defect due to high humidity. The higher the body is mounted, the less likely it can be flooded and compromised. With the intact body and flooded sensor, the device will continue to operate and even will send a report when the sensor dries.
Like all other home security devices, the flood sensor as part of a Houseper system can have different types of alarms, such as

,

,

,

,

, respectively flooding, missing device, tamper, trouble, battery. All battery operated devices have very low power consumption and long battery life, but this is the device with the lowest power consumption. Almost all the time it is at rest ("Sleeping"), waking up periodically for a very short time, indicating that it is "alive" and functions normally or in case of flood.
The device installation is quick and easy with a stable double-sided tape. Don't forget to remove the battery insulator and add it to the Houseper system by selecting "Add device" in the Houseper app and holding the device's hidden button in the small side hole pressed for 2 seconds.
Functionality:
Basic




Power Configuration




Zone
Alarm indication:
red LED




siren activation from HOUSEPER system




smart phone notification from HOUSEPER system




mail from HOUSEPER system



Join network:
press "Add device" button under the Settings tab in HOUSEPER application;




press the device button located in the little hole for 2 seconds till green LED flash quickly;




green LED keeps on for 3 seconds after successful join;




device appears on Devices tab in HOUSEPER application.



Leave network:
press the device button located in the little hole for 5 seconds to leave the network;




after the device leaves HOUSEPER network, the green light flashes slowly for 3 seconds.
* The batteries are included
Device Specifications
Networking type
Zigbee HA 1.2
Wireless Networking Distance
100m (open area)
Router (network extender)
No
Endpoints
1 x Water leakage sensor
Working temperature
-10℃ ~ +50℃
Working humidity
≤95%RH
Power Supply Specifications
Power Supply
DC 3V
Battery
2 x AAA
Water leakage sensor
Product Code: GTVE-GD-ZBWD18T0
Availability: In Stock
63.60лв.

Ex Tax: 53.00лв.
Related Products